Nigel Plaskitt - puppetry coach for Avenue Q, which is making its way to Greenwich in May - has had a colourful career working on Spitting Image, the Muppets movies and as the PG Tips monkey.
He said: "Most of my work has been in TV and film - from Pipkins I went straight into Spitting Image, where I was for 13 years."
Nigel played John Major, Margaret Thatcher, The Queen and most of the Royals on the show.
He said: "To get the physicality for each person we would look out for character traits from videos of them - anything you can find really to get to understand how they talk and move - although, I have to say we found towards the end of the show that Maggie's cabinet became so very bland that we were struggling to find them - characteristics - so we ended up having to create them ourselves.
"Also as the show went on, Maggie became more and more like a man - we put her in a suit and manned-up the character more and more - I think deep down she liked being portrayed as man."
As well as working on casting and as puppetry coach for Avenue Q, Nigel is also the puppeteer for the PG Tips monkey, who he said is "the simplest form of glove puppet".
He said: "Ben Miller voices him, but I create the movement and lip sync to fit with what Ben is saying. It can be quite difficult as when it's filmed it's totally live with Ben talking and me following with lip syncing."
Nigel has worked as a puppet coach for Avenue Q for 10 years - including on Cameron Mackintosh's West End production.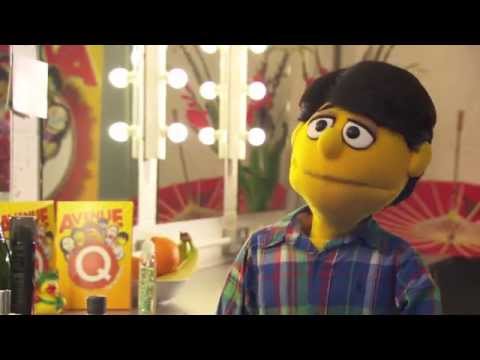 He said: "All the actors we've hired have had no previous puppeteering experience - they've come completely green, which I think is better - it's a difficult show to do as they have to be able to sing, dance, act and puppeteer.
"We are really looking forward to the Greenwich show as it's the London venue, so will be a great place to touch base and it's a great venue as well.
"The audience never feel very far away from the puppets because you're so close - it's a lovely intimate venue."
And he admits to having a favourite character in the show - Trekkie Monster, which he said "is such a fun character".
The show will be at Greenwich Theatre, May 12-24.
Go to greenwichtheatre.org.uk