Honey G is one of the most controversial contestants that has appeared on ITV's X Factor. Her rapping skills and "ghetto" persona divided a nation, with some labelling her fake, others, including Snoop Dogg and 50 Cent, calling her genius.
If you thought – or hoped – you'd seen the last of her you'd be wrong as the rapmeister is back bringing it large to The X Factor Live tour at The O2 on Saturday (February 25). Our Witch Twitch loves a conundrum so we were happy to cast the runes, to find out what's really going on behind Honey G's shades.
Destiny Calling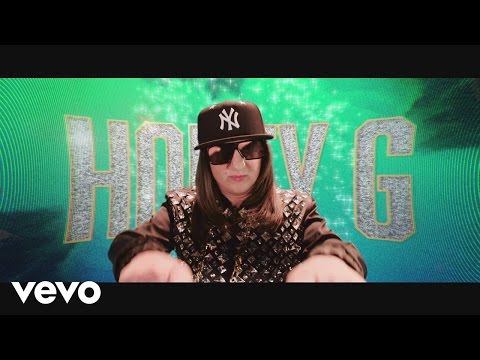 There must be something in the water at Dr Challoner's High School in Little Chaffont, Buckinghamshire, for not only did it produce the supreme ambitionist Amal Clooney nee Alamuddin, but also Anna Gilford aka Honey G .
Surprisingly, despite one being married to an Hollywood A-lister and the other, well, not, these middle-class ladies share more in common than one would think.
The cards suggest a sense of destiny and an innate ability to put themselves in the right place at the right time. However, our guides say that regardless what the media would infer, Honey G is the more genuine of the two.
You make your own luck in this world and this is where the The Honey G Show singer has excelled. She wasn't born to greatness, hasn't married into it but is desperately trying to carve a way to it. Our Witch Twitch simply says "go girl".
Scratch The Surface
OK, it's pretty obvious that what you see is not what you get with the North Weezy resident who was the boss of recruitment firm ARG Search Ltd and listed achievements as tennis champion, avid netball player and a flag bearer at the North American Maccabi Games in 1996.
Far from the flamboyant, extrovert "gangsta" rapper that she portrays on stage, our guides say Honey G is one insecure individual, trying to prove to everyone that she is "flex".
The tarot shows she is living in the shadow of somebody and feels the only way she can break out is by going to extreme lengths. Hence the birth of Honey G. Our Witch Twitch says it's all very good creating a persona a la Lady Gaga but to be convincing one needs to truly feel it from the heart and asks: Honey, is you really the realist chick in the game?
Native American Totem
Despite being likened to a bee our Honey G is being guided by the Native American totem Hawk. Who would have thought it? Flying with hawk means that you are only as powerful as your capacity to perceive and receive.
Nothing escapes the attention of Honey G, she doesn't miss a trick – or an opportunity. Hawk, though, is saying that the wannabe hip hop star needs to circle over her life, examine it from a higher perspective and ask herself whether this is the path she wishes to follow. Our Witch Twitch says fame does not always lead to fortune.
Inner Secret
The tarot shows that Honey G dreams of artistic expression through music. Note, the cards say dream. It also reveals that the recruitment management-turned-rebel-rapper hankers after a conventional family life, with 2.2 children and a goldfish.
Although she has a real likability factor it's not necessarily her X factor and the cards show Honey G dreams of being more popular and appreciated. Our Witch Twitch says Honey, you're wonderful as you are.
Stop hiding behind the shades, and the Smiffy shellsuit, and be true. You'll find a lot more doors now opening for you but focus on behind the scenes not centre stage.
For more gems and insights – or to have an exclusive personal reading from the Witch, go to her website .
Follow The Wharf on Twitter and Instagram @thewharfnews
Keep up to date with all our articles on Facebook