In the early days of Canary Wharf, Jools Holland used to drive his kids under the river and pretend they'd travelled far enough to reach New York, an illusion aided by the presence of a now defunct American diner. Hosting a showcase of his favourite pianists on Wednesday, April 26, at Boisdale Of Canary Wharf (where he's patron of music), he communicates a real warmth for the estate and its people.
It's an affection further illustrated in a short BBC documentary he made in 1996 during which he topped out One Canada Square, some 20 years before Night Scape and his mate made it up there for selfies .
There ain't much new under the sun, but his gig's sell-out audience don't mind.
They come in force to hear Holland's passion for playing and the practitioners of stride and boogie woogie piano.
Many of the acts have played similar gigs in previous years (see video of last year's below); quality remains an attractive force.
The first, though turns out to be a fresh addition. Angus Macdonald is 19, the son of the venue's owner and, perhaps, the man to carry the flame for his generation.
Before anyone cries nepotism they should listen. Set against a backdrop of worldwide greats, the rangy player holds his own, warming the crowd up with a boisterous but muted touch, gelling with drummer Gilson Lavis to get them nicely softened for the other acts.
So when 89-year-old Jack Honeybourne cranks up the gas, the place starts swinging.
It's a relatively slow build, but one that fulfil's Holland's promise; that the two Steinways back to back become completely different instruments in the hands of different players.
Neville Dickie, a man who exudes BBC radio broadcast from the pores under his white jacket, sprinkles notes with effortless grace.
Things kick up as Swiss delicacy Ladyva, a fragile girl in a wispy dress, demolishes the ivories in a blistering, improbably display of boogie.
Then it's German Axel Zwingenberger, a train enthusiast and owner topped with a steel grey helmet of hair, who pounds the keys as hammer and anvil, forging endless rails of music for his rolling stock to run on and ginning from behind his moustache. He holds the audience in his palm.
Penultimate to Holland, Judy Carmichael is all sultry stride, teasing vocals and witty asides.
And then it's the main man. Grinning in pleasure, clad in dark jacket and polo shirt, he whips through five numbers, one sung exquisitely by his deep-voiced daughter Mabel Ray and one with supreme trumpet player Enrico Tomasso, a prodigy of Louis Armstrong.
Gleefully Holland then welcomes a series of duets before the performance descends into a kind of organised chaos as five of the players trade riffs and grooves circling the instruments like children engaged in a delightful, unending perversion of pass the parcel.
Reflecting after, Holland says the room has softened since he first performed in it.
Is it any wonder, when presented with shows of such depth and richness, the affection is reflected right back at the stage?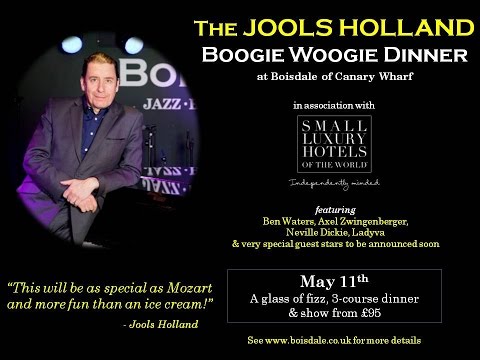 Follow The Wharf on Twitter and Instagram @thewharfnews
Keep up to date with all our articles on Facebook