Why do some diseases hit the headlines and attract billions in funding, while others languish almost unnoticed, even though they affect many more people?
That is the question being brought into the spotlight by Song of Contagion .
The concert performance by Grand Union Orchestra will see 30 musicians and singers from a variety of genres bring the cold statistics to life at Wilton's Music Hall on Tuesday, June 13-17.
Combining elements of jazz and world music, the songs are an alliance of music and science.
Director of the Hackney-based orchestra Tony Haynes composed the music based on data gathered by renowned epidemiologist Elizabeth Pisani.
Known by her peers as the "disease detective", she studies how politics and culture respond to the spread of disease.
She said: "We like to think that the most serious diseases get most attention, but that's rarely true.
"I can use graphs to explain why, but lots of people's eyes would glaze over.
"So we're trying to use music to illustrate the many competing forces which shape our view of disease - the patient activists, the click-bait news headlines, the corporate lobbyists, the research scientists - they're all voices in Song of Contagion."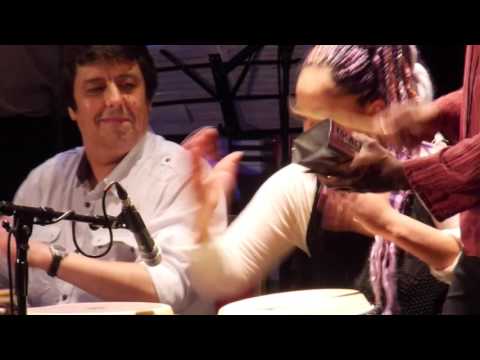 The performance focuses on five well-known illnesses with Tony matching statistical factors to musical elements such as melody, rhythm and tempo.
He worked with the orchestra's lyric-writers to create a range of human stories and one of its most "ambitious and mesmerising projects to date."
The performance begins in the East End where cholera raged in Victorian times; eradicated in London by building the sewers, it remains rampant in Kolkata and Indian voices and instruments will highlight the thousands who continue to die from the disease.
A big-band piece celebrates the activism that brought HIV/AIDS to public attention with musicians animate the lines on a graph, projected behind them.
Exuberant dance rhythms from central Africa describe how dengue fever and Zika spread unnoticed across the continent and the Caribbean until it threatened to spoil the Rio Olympics.
Old music hall song dramatises the sound of a heartbeat and its graphic wave filling a screen, a portent of Coronary Heart Disease. Against this pulse, Dr Sugar investigates how the heart's rhythms can be sent off kilter by the junk food industry.
Finally a series of songs featuring jazz soloists follow the flashbacks of combatants and civilians affected by shell-shock, for which treatment is still scarce.
Song of Contagion is supported by the Wellcome Trust through an Arts Award.
Wilton's Music Hall , Tuesday, June 13-17, £ 10-17.50
Follow The Wharf on Twitter and Instagram @thewharfnews
Keep up to date with all our articles on Facebook