After several delays because of production issues, Drake hit The O2 and brought with him a welter of home-grown rap talent that have made the few tickets still remaining soar in value.
The Toronto rapper will play eight nights at the arena between now and March as a part of the Boy Meets World Tour.
"London is the most inspiring place in the world – the people, the music, the women," he said on his opening night and showcased south London crew Section Boyz, Giggs and Kyla, vocalist on Drake's hit One Dance.
"This was probably the most fun I've had at a single show in my life," Drake concluded. "Do you know what my favourite thing about tonight is? The world is going through so much hate and confusion right now. But take a look around.
"There are people from all places and all races here tonight. I want you to keep loving each other and take that concept and apply it when you leave these doors."
Timings
Due to finish: 22.30 (approx)
What the critics say
• Particularly striking is the sheer number of hits Drake has to his name. Every time we thought there couldn't possibly be another song, he pulled out an anthem bigger than the last. When he switched from "Over" to "Worst Behaviour" the crowd bellowed. Drake has such a catalogue of number ones it was impossible to play one for longer than a minute.
• Drake postponed his tour due to "unforeseen production setbacks" but such was the brilliance of this 90-minute set, peppered with pyrotechnics, that his fans couldn't have held a grudge if they'd tried. "This is the most inspiring place in the world," he beamed, waving a Union Jack in case we didn't believe him.
Matilda Egere-Cooper, Evening Standard
Drake's setlist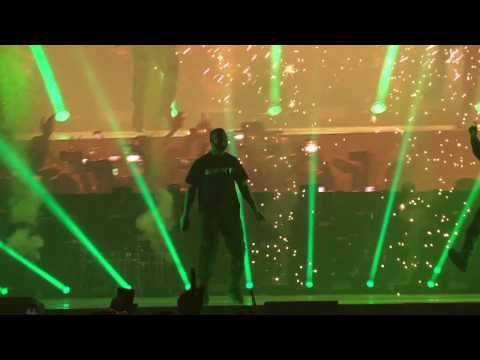 'Still Here'
'Started From The Bottom'
'Headlines'
'Trophies'
'HYFR (Hell Ya Fucking Right)'
'0 To 100'
'Keep The Family Close'
'9'
'Child's Play'
'Feel No Ways'
'Over'
'Worst Behaviour'
'Blessings' (Big Sean cover)
'Versace'
'I'm On One'
'Up All Night'
'Successful'
'Lock Arff' (with Section Boyz)
'Hotline Bling'
'Hold On We're Going Home'
'The Motto'
'For Free' (DJ Khaled cover)
'My Way' (Fetty Wap cover)
'Back To Back'
'Jumpman'
'Whippin Excursion' (with Giggs)
'Work'
'Too Good'
'Controlla'
'One Dance'
'Pop Style'
'Know Yourself'
'Energy'
'Fake Love'
'Legend'
What dates are left at The O2
Wednesday 1 February
Thursday 2 February
Saturday 4 February
Sunday 5 February
Tuesday 14 February
Wednesday 15 February
Some tickets are still available but limited in supply.
How to get to The O2
Tube
The Jubilee line is the best way to travel to the venue. Check here for Tube status.
Driving
There is parking on site and The O2 is signposted from the M25, the A2 and A20 (from the South East), and the M11 (from the North). Take the junction for Millennium Way or Edmund Halley Way. Allow extra time as there are works on the approach road.
Or just tap in the postcode - SE10 0DX into your Sat Nav.
Bus
The 108, 129, 132, 161, 188, 422, 472 and 486 all stop at North Greenwich station . And the 188 is 24 hours to and from Waterloo station. Sit on the top deck for a View To (A) Kill for.
Boat
The MBNA Thames Clippers service to North Greenwich comes from as far west as Putney and as far east as Woolwich (at limited times).
Cable car
It may only come over from the Royal Docks, but the Emirates Air Line is certainly a more scenic route for those adventurous sorts among you. If you're travelling on the DLR as well, you can change at Royal Victoria and get to it from there.
Follow The Wharf on Twitter @the_wharf
Keep up to date with all our articles on Facebook