They started out in Bermondsey, toured with The Prodigy and along the way stole Slayer's tour bus.
Currently touring in Belarus, Red Snapper will be jetting back home for their only London show this year at the Canary Wharf Jazz Festival on Saturday, August 20, at 8.30pm.
Now in its 10th year the weekend-long event in Canada Square Park offers an eclectic mix of performance from the world of jazz.
We caught up with Red Snapper's double bassist Ali Friend to find out more about what the audience can expect and what they get up to off stage.
Who are you and what do you do?
There's me on double bass, gato drum; Tom Challenger from Forest Hill, sax and keys; Rich Thair from Pontardawe, drums and David Ayers from Dublin, guitar
Where was the band founded?
Rich lived in Hammersmith, David in Camberwell and I lived in Hackney. So we rehearsed in Bermondsey...
What's with the name?
I'd like to say there was a big story to the name but we just saw it on a restaurant menu board in Crete. Sounds quite British though – suits our sound – while also making you think of warm and exotic things which we most definitely are.
What was your early sound like?
Raw and experimental. We started playing with DJs in clubs.
What was your first gig like?
Broken and under rehearsed and quite improvised. Brilliant. That's the way to go.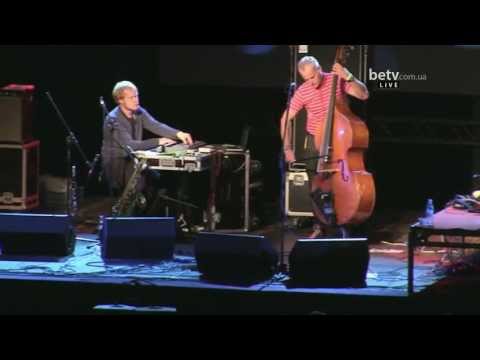 What was it like touring with The Prodigy?
We toured with Prodigy for a few shows. It was a wake-up call to how small a production we had. Their sound was immense and helped push us on to try bolder things.
What was the band like?
The Prodigy and their crew were very cool and supportive. They had asked us to play with them because they loved what we did. It was hilarious in a way that our jazz infused sound was so appealing to them.
Who was the craziest?
They were all straight up Essex boys. Keith would come off stage mid-set after spitting on the front rows and ask me what I had for lunch. Walnut salad of course.
Did he give you any advice?
Try the chicken next time.
Most rock and roll moment?
We stole Slayer's tour bus. I can't say more in case they turn up at Canary Wharf.
Are you still mates with any of them?
No, not really. We started working on an album for Maxim but never finished it.
Why did you break up in 2002?
We had got to a point where we spent more time discussing what to play rather than playing.
What brought you back together?
The promise of good music and good times again and lots of people close to us urged us to try it again. I was the most reluctant but I'm pleased now.
What was Eliza Carthy like to work with?
She was a long term Snapper fan who we helped push us out of Glastonbury one muddy year. I have worked with her in Imagined Village. She is a force of inspiration and creativity and not to be messed with.
Career highlight?
Inspiring legions of new musicians to play – you can't beat that.
Have you been to Canary Wharf before?
I think so. It always makes me think of Miami.
What can the audience expect from you?
We're on for a proper London knees-up. Playing in a sultry and sweaty atmosphere (hopefully) and taking people to our special place. It's our only London show this year so we're totally up for it.
How would you describe you sound today?
Warm apple pie with hazelnut ice cream and a mango sauce
If you could play with or for anyone who would it be?
David Bowie and Charlie Mingus
Who is the brains of the operation?
No brains here.
What's on your rider?
Vodka and sun-dried raspberries.
What else are you up to this year?
We are writing new material at the moment. Quite vocally led. And we are going to Russia and Greece to play in the autumn.
Saturday, August 20, 8.30pm to 10pm, free entrance but numbers limited, Canada Square Park
Full line-up for Canary Wharf Jazz Festival
SATURDAY 20 AUGUST
1.30-2.45pm Nerija
3.15-4.30pm Julia Biel
5-6.15pm Shez Raja feat Arun Ghosh
6.45-8pm Eliane Correa & En El Aire Project
8.30-10pm Red Snapper
SUNDAY 21 AUGUST
1.15-1.45pm Gospel Singers Incognito
2.15-3.30pm Binker + Moses
4-5.15pm J-Sonics
5.45-7pm Natalie Williams Soul Family
7.30-9pm Beats + Pieces