My, how times have changed. Imagine the twitching at the Health and Safety Executive, Kendal social services and The Sun when news emerges of a feckless mum letting her brood head out in their sail boat sans lifejackets to camp on an island with easy access to fire and knives.
But Mrs Walker (Kelly Macdonald) frets about keeping the foursome cooped up in their Portsmouth home and thinks that fresh air and responsibility is the answer, despite Roger's inability to swim more than a dozen yards.
"If life were all 'early to bed' we'd never learn owt," agrees blunt Mrs Jackson, Lake District B'n'B proprietor played by Jessica Hynes, underused in this film like her curmudgeon of a husband, Harry Enfield.
If nothing else, Mrs Walker's faith in her eldest son spawned a pre-war children's classic that is brought handsomely to the screen by director Philippa Lowthorpe in an adaptation that will have parents wincing at the recklessness of the age and their offspring complaining they've been cheated out of a childhood.
Apart from the lecture about the shortcomings of bedroom-bound bairns, there is another concession to modern times.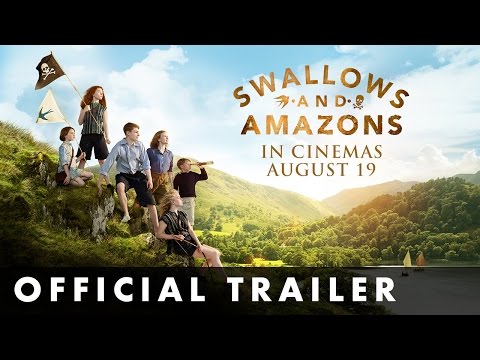 Messing about in boats was sufficient for 12 of Arthur Ransome's yawning tales of summer – but not for the Xbox generation which demands something more.
So grafted on to this story of the the Swallows and Amazons battling for supremacy of the island is a derring-do adventure about a British spy (Rafe Spall) hunted down to his houseboat by two Russians (including, inevitably, Andrew Scott) leading to an implausible climax that is more 39 Steps than Famous Five.
For all its qualities – including drop-dead gorgeous backdrops – Swallows And Amazons lacks the timeless magic of, say, The Railway Children to which it aspires.
The young cast display more acting school sheen than scruffy-kneed gumption and, ultimately, the adventure is more cosy Sunday tea-time fare than big-screen outing.
| | |
| --- | --- |
| Movie Name | Swallows and Amazons |
| Year | 2016 |
| Directed by | Philippa Lowthorpe |
| Running time | N/As |
| Starring | Jessica Hynes |
Read more David Brent: Life On The Road review – Pleasure? Guilty