The Great Sundance Alchemists smiled mightily upon The Big Sick, recognising the shiny ingredients of a millennial indie classic.
They smiled too because there are some cracking lines in the true story of Kumail Nanjiani and his bumpy relationship with writer Emily V Gordon. But mostly they smiled because the film represented the turning of base metal – the romcom – into Sundance gold. Smart, funny, cute, kooky, recognisable, challenging – in a non-threatening way – enlightening and, above all, charming.
They may have frowned at the title, which sounds like a report to a primary school teacher about what Rodney "Two Sherbets" Pattinson is doing in the playground, but the smile returned when they witnessed those indie cameos from the likes of Ray Romano and Holly Hunter and the deadpanning of Kumail (who does a similar job on Silicon Valley) which underwrites feelings of positivity, despite the travails of the couple.
The story has stand-up Kumail getting heckled by Emily which ultimately sees them tumble into bed and into love – although "I am overwhelmed by you" – is the best we get from these two reticent partners.
The hesitance comes from Emily's shaky romantic past but more especially from Kumail's Pakistani background and strict Muslim family which he reveres despite his big city sensibilities.
So he takes "appointments" from girls who "drop by" ahead of a possible arranged marriage, tackling his opposition to the idea through a mix of denial, deferral and cricket.
Emily (Zoe Kazan) takes umbrage when he cannot see their future together and they part. Thus ends the most engaging part of the film for the chemistry between the two is scintillating. What should be "get-a-room" cloying (The Big Sick of the title if the tone were wrong) works, mostly thanks to Kazan's sense of genuine joy at her boyfriend and his bafflement at this ballsy and brutal gem in his bed.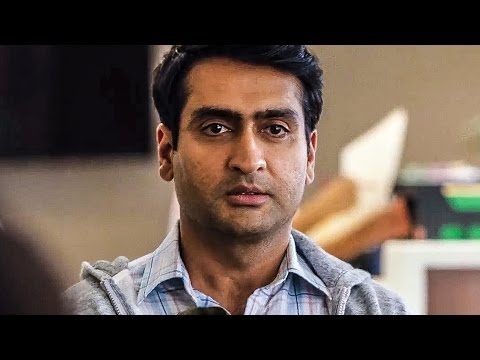 Such is the infectious glee at their union, the easy assumption in this true-life tale is the Zoe Kazan is the real Emily in the same way that Kumail, plainly, is the real Kumail.
The disappointment is that Kazan is absent for much of the film, struck down by a life-threatening coma during which time Kumail reflects on life, religion, parents, obligations, happiness and love. It is a lop-sided journey travelled alone towards emotional epiphany although Romano and Hunter as Emily's parents act as engaging travel companions.
While some chapters feel unnecessary, especially in a film with a long running time, the dilemmas of Kumail's life and the fragility of Emily's heart, body and soul create a tension in Michael Showalter's film that is usually absent from an genre beset by nasally snowflake self-absorption.
We learn many things, the most useful of which is the positioning of silly mid-on to support the yorker. More cricket lectures in movies please.
Follow The Wharf on Twitter and Instagram @thewharfnews
Keep up to date with all our articles on Facebook