"Don't let money be a dirty word," says the hard-edged protagonist in this morality tale of duplicity and greed in the world of high finance. Later, over drinks, the banker affirms "I get what I need" when discussing affairs of the heart (or, at least, the loins).
But wait. These are the She-Wolves of Wall Street talking the talk in Equity . Writer Amy Fox's tale, directed by Meera Menon, flips the paradigm and puts the women in the swish leather chairs and makes the boys the booty call in a refreshing twist to a routine tale of stock prices hijacked by hedge funds.
Breaking Bad's Anna Gunn is the formidable Gordon Gekko-alike investment banker, Naomi Bishop. She has sacrificed everything for her career and, at the outset, secures a big tech firm IPO, bouncing back from a previous stock sale disaster that left a cloud over her reputation.
Cachet is the social media business about to go public, a company all about data secrecy, paranoia and security. Conveniently so, for those are also the dark undercurrents of a film which trades in poker faces not histrionics. Who can you trust when millions of dollars are at stake? Traditional tribal loyalties – love, friendship, the sisterhood – all have their price.
Nervous Naomi is outgunned by ambitious underling Erin (Sarah Megan Thomas) who nurses her own side project that threatens her career and her waistline. Meanwhile Naomi's old schoolfriend Samantha (Alysia Reiner) resurfaces. She's a prosecutor with the US attorney's office so their reunion is less about dirty martinis than dirty secrets.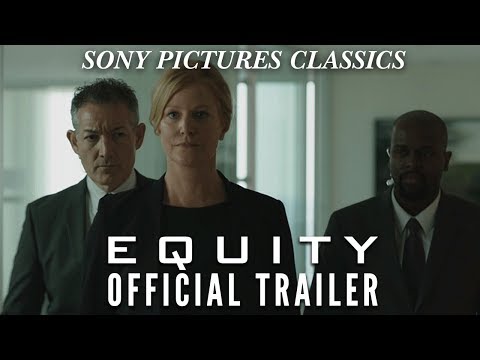 "I don't talk to strangers," says Samantha's young son to Naomi on introduction.
"Well, it's friends who stab you in the back," replies Naomi, one of many lines of clunky script that gets to the punch before the viewer has a chance.
But, generally, this is cultured, efficient film-making, eschewing the Wolf's venal excess and unafraid to take things slow to give characters room to become authors of their own undoing. Minor flaws start as tiny fissures but grow sufficiently to create seismic ruptures when the deal hits the floor.
The sum of all this is an interesting rather than spectacular film and, unlike the initial stock offering of Cachet, well worth the investment.
Movie Name
Equity
Year
2016
Directed by
Meera Menon
Running time
100 mins
Starring

Sarah Megan Thomas

Alysia Reiner