Imagine you're an archaeologist. Your life lies in ruins, as the old joke goes. Then someone announces an intention to create the biggest dig for decades in one of the most fecund and fascinating sites in the country.
It goes on for miles, will leave you kneedeep in discoveries, and give you access to pre-historic sites and Tudor landmarks, to plague skeletons and hippo sandals, to amber and mammoths. Layers of history like leaves in a book.
Hard to tell whether archaeologists are running-around-in-circle-whooping kinda people but the opportunities presented by the Crossrail project would have tested their self-restraint to the extreme.
The net result of all that digging was prize sites from North Woolwich to Old Oak Common taking in the Liverpool Street Roman burial grounds and the industrial heritage of the East End.
The dig ended in 2016. In a year, the Crossrail archaeology industry has flourished. There are tens of thousands of finds from a mouse jaw to a plague pit and the stories are as rich as the soil excavated by the Crossrail boring machines. There's a lifetime's work in that north London warehouse.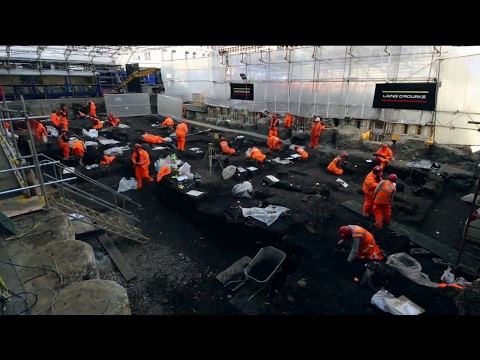 A fraction of the treasures – more than 500 across 8,000 years – find themselves depositing once more, this time in Tunnel: The Archaeology Of Crossrail running at the Museum of London Docklands on West India Quay until September.
The exhibition organises itself like the Elizabeth line, starting at the east and heading west, pulling two or three stories from each site to give just a flavour of the capital city through the ages.
"From the Mesolithic era where prehistoric pieces of flint were found in North Woolwich to jars from the late 19th century at the old Crosse & Blackwell bottling factory in Soho, the huge various of objects on display is astounding," said curator Jackie Kelly.
"It's fantastic that within a year of the excavations ending we have been able to put on this exhibition showcasing the best of those discoveries."
Many of the findings, particularly the plague skeletons, have been well chronicled but new findings are on display from a Victorian chamber pot from Stepney Green to a Roman copper alloy medallion from Liverpool Street
Running alongside this sample of yesterday's triumphs is a parallel story of today's wonder – the Crossrail project itself, worming its way beneath river and city, skirting the subterranean spaghetti of the capital.
Large digital screens capture the scale of the task – tracing the route of the Elizabeth itself, witnessing the works on the Royal Docks to revive the Connaught Tunnel or capturing the grind and push of the monster diggers.
Parts of those boring machines were left beneath ground when their work was done, buried and sealed beneath metres of earth.
Finds for another generation of archaeologists to uncover when this museum, that station and the poor old mouse jaw (again) gets shrunk to a paper-thin stratum.