Green facepaint helped propel Eden Espinosa to fame as Elphaba in Wicked.
Now the 39-year-old has switched to a shock of pink hair to star in bold new rock musical Lizzie, another production that challenges female stereotypes.
It is a retelling of the infamous story of Lizzie Borden who in 1892 was accused of hacking her father and stepmother to death with an axe.
"I was 25 when I started in Wicked so really young," said Eden.
"It resonated, Elphaba feeling different because of her green skin, because by aged 10 I was 5ft 4in and had developed physically.
"I got made fun of and got pulled out of school be home schooled.
"The show took me back to times that weren't pleasant. Knowing you have something to offer but people can't see it."
Her star power emerged after she took over the lead role in Wicked from Idina Menzel, now famous for Frozen and that song.
Eden said she blossomed on stage and has since become a name in her own right – she is stopped in the street for autographs, performed on The Tonight Show in the US and met idols such as Diane Keaton, Angela Bassett and Jeff Goldblum.
"Director Joe Mantello really invested in me and gave me wings. I'm grateful for the journey I had with Wicked.
"As stand-by I was sort of part of the cast and sort of on the outside. But I got to be in the audience and feel their reaction. When I went on to perform I remembered how it had made me feel."
The American has gone on the take the lead in the Brooklyn show, star in Rent and release her first solo album. She's also voicing a character in the new Tangled television series by Disney.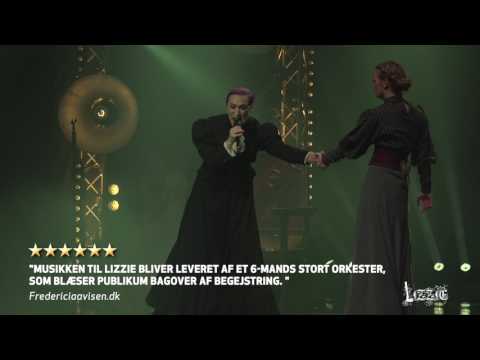 She was drafted in for Lizzie late in the day to play Emma Borden.
The music in the production is more akin to bands like the Runaways and Bikini Kill than Andrew Lloyd Webber with the four-strong female cast rocking out on stage with black eyeliner, leather and guitars.
"The show runs a fine line between musical and elevated stylistic rock show," said Eden. "The juxtaposition between the time and the music is unique."
The first act sees the women perform in period costumes as accused killer Lizzie, older sister Emma, friend Alice Russell and maid Bridget Sulliven. And in the second act they transform into their rocky alter egos.
"She was the first woman to be tried for murder and acquitted and this is the strange story underlying that.
"Part of the reason she got acquitted was because they didn't think a woman was capable of committing such heinous crimes."
She added: "It's a completely different show to anything I've done because I have never done anything with a cast that small.
"We have to have some masculine, sexual, comedic and vulnerable energy. So instead of a show where the men play the powerful parts and the women play the soft parts we get to do it all.
"People will be surprised by how rock 'n' roll this is and that women are the conduits for that."
Greenwich Theatre , Feb 22-Mar 12, £15-£26, lizziemusical.co.uk
See more news from Greenwich here
Follow The Wharf on Twitter @the_wharf .
Keep up to date with all our articles on Facebook .