She is about to tread the boards at the prestigious Garrick Theatre but for years Andi Osho thought of herself as an imposter on stage.
"I felt like a charlatan because I could see acting was a craft you had to acquire and I hadn't done all the drama school stuff," said the Plaistow-born actress who will star in The Miser alongside Griff Rhys Jones and Lee Mack.
The 44-year-old is mostly known for her stand-up with appearances on Live At The Apollo and Mock The Week under her belt. But as a young girl growing up in Newham she always dreamt of being on stage. She went on to study acting at Sarah Bonnell School and then Barking & Dagenham College alongside superstar Idris Elba.
She watched as he won a place at the National Youth Music Theatre and went on to become a household name in The Wire and Luther. But despite her passion for acting, she didn't think of following in his footsteps because drama school was "for special people".
"I had it drummed into me by my parents that I should get a proper job," said Andi, the only person to have won more than one episode of Celebrity Mastermind.
"So even when I saw him doing so well I carried on with my little job in post production."
Finally in her 20s she decided to take the plunge.
"I could feel I was never going to be 100% satisfied if I carried on with that job. So it was a case of now or never so that on my death bed I would know I gave it a try."
After completing an evening course at the Academy, she landed her debut role on stage in the "dire gay rape pantomime" What Happened Last Night?
Roles as a police officer in Waking The Dead, A doctor in Footballer's Wives and four appearances in EastEnders as a nurse followed and Andi was broke but happy. But then the roles dried up.
"I knew I needed to stay on stage and stay working so I decided to give stand-up a go, even though I never thought I was that funny, and what happened happened."
What happened was she won the 2007 Nivea Funny Women award, landed gigs at the Comedy Store, Reading Festival, Shoreditch Comedy Festival and Hackney Empire and became a regular on Stand Up For The Week.
"For years I felt like an imposter but that started to go away when the stand-up took off because that was a way I could legitimise myself."
With all those jokes to tell Andi said acting fell by the wayside but she decided to "rejuvenate" that childhood dream a few years ago by heading over to the States for pilot season, landing a role in Finding Carter and short film Lights Out.
"It takes a while to get your feet under the table there," said Andi who can be seen on UK screens in Channel 4's Supershoppers.
"But you only need a couple of people in the industry to be fans and that starts to get you traction.
"I was on The Late Show with Craig Ferguson. That was nerve-racking. But then they asked me to be a sofa guest, even though I had nothing to promote, so I just went on and had some banter and met Guy Pearce and Aaron Paul. I'm a massive fan of Breaking Bad and really wanted a selfie but I played it casual."
It was in LA she finally found self belief.
"I joined the Howard Fine acting studio. He teaches Will Smith and Jared Leto and learning from him made me feel like now I'd had the education that I would have had at drama school.
"So now I finally feel like an actor, after 10 years," she laughed.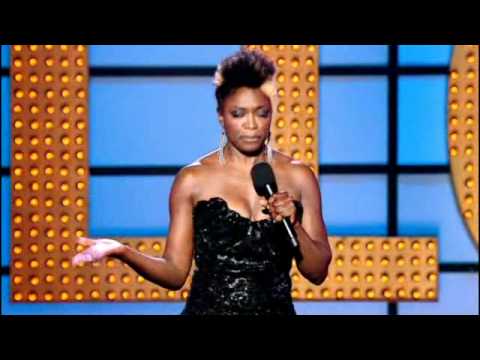 She was gearing up for another pilot season when the call came for the role in The Miser and she jetted back home in mid-December to audition and was offered the role of Frosine the same day.
"I have never done a play as big as this before. This is a proper grown-up West End show and a cast that will draw an audience.
"And these are great actors to be working alongside. It is like having a comedy masterclass – they are always thinking in terms of getting jokes out of the material.
"With Griff it is like watching a craftsman. I have a lot of scenes with him that are really silly and fun."
So does Andi finally feel like her acting chops stand up to her co-stars?
"I'm always fearful that I'm not doing it right or don't know my lines or am not funny enough. But you just have to push through. That might look like confidence but it's just being scared and doing it anyway.
"If I went with what I was feeling I would probably stay in bed all day. But I want more for myself than that."
Garrick Theatre, Charing Cross Road, Wednesday, March 1- June 10, from £25 with £10 off all price bands during preview performances
Follow The Wharf on Twitter and Instagram @thewharfnews
Keep up to date with all our articles on Facebook