West Ham scored a vital 1-0 victory over Burnley at London Stadium after captain Mark Noble converted the rebound from his saved penalty.
The Hammers had to work hard for the three points but were unlucky not to have won by a bigger margin after striking the post twice in the first half.
Noble, who scored after Burnley keeper Tom Heaton turned away his penalty, admitted the club's position had played a part in their stuttering but successful performance.
He told the West Ham website : "At this stage, I'd be lying if I said there wasn't a point in the second half when we just wanted the final whistle. We had to dig in and fight for each other.
"I think we sat back. Obviously nerves came into it because we wanted the win so badly and we just tried to hit them on the counter attack.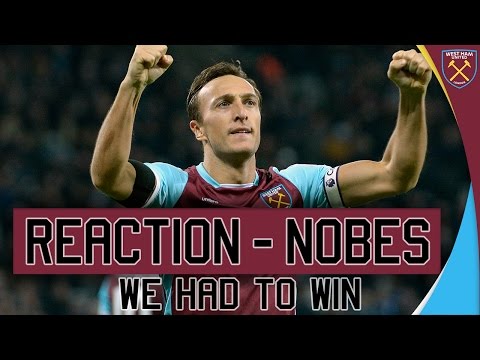 "We knew they would chuck everything at us in the second half and the boys defended great. Darren made a couple of good saves again and we made a clearance off the line, but at this stage of the season and where we are, we needed that."
The victory has moved the Hammers slightly further above the relegation zone and they are now in 15th place on 16 points.
It was a much-needed win for the Stratford club and comes after manager Slaven Bilic identified this as a crucial week for the side.
Noble said: "These three points are massive. We've got another home game on Saturday and as I said at this stage and where we are, it doesn't matter how we play but how many points we get.
We've played a lot better than that and lost games."
West Ham's next game is against Hull at London Stadium on Saturday.
Follow The Wharf on Twitter @the_wharf
Keep up to date with all our articles on Facebook