In theory this was a game just like any other one. That was the mentality of the players, according to West Ham's Winston Reid.
But it wasn't quite like that.
For fans used to the onion odours and makeshift burger stands of Green Street. To crushes for a single Tube station, for scarf sellers in doorways and scuffed concrete under foot, this was like a sun-soaked holiday. They were tourists at their own club.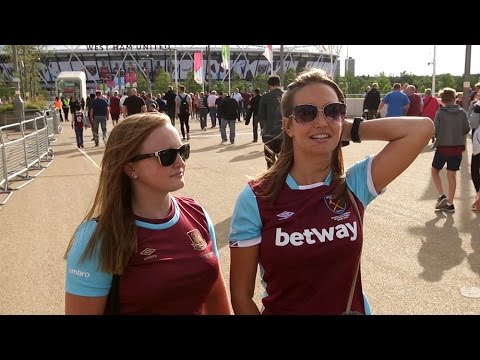 Bev Michaels, a fan for 35 years, was buying a shirt at the impressive new store outside the ground. She said: "I loved the Boleyn. It was a bit frayed round the edges but it was ours. I was a bit worried to be honest. But this place is like a dream come true. I can't believe we're here."
The club saw a record attendance and large queues for programmes while clusters gathered just to take video footage on their phones of a place that will become as familiar to them as Upton Park station.
Captain Mark Noble, who has more Boleyn blood in him that most said beforehand: "It will be weird. But this is the future and if we want to move forward, this is what we have to do."
Read more West Ham start their new chapter with impressive win – gallery
Another fan Janson Ragon said: "It's like a day at Wembley but we get it every week."
The bubbles hit the pitch at eight minutes and the team were greeted to the club song as they strode onto the immaculate turf. For newbies, the words to the song adorn the stadium walls along with reminders of the club's past glories.
Perhaps in the early evening light, with a victory on the cards and a celebration to mark, the new London Stadium flattered to deceive. On a wet Monday, the sheer scale of the place may become an enemy. There were some grumbles on Twitter about the lack of atmosphere and the distant views. The distance from dug-out to pitch seems daunting and some seats were left deliberately empty.
But with 54,000 roaring on… the rush to the future begins with a bang.
Manager Slaven Bilic summed it up: "There's no point comparing it to Upton Park, it's a completely different thing, but tonight it was a really good atmosphere. So I'm not afraid of the new stadium."
Follow The Wharf on Twitter @the_wharf .
Keep up to date with all our articles on Facebook .