Office workers are being challenged to unleash their competitive sides and sign up for this year's Pop-Up City Triathlon .
Teams of three will battle it out in Montgomery Square from April 24-27 to raise both heart rates and funds for Macmillan Cancer Support.
The second annual static event is expected to attract 300 athletes who will have to cover as much distance as they can in each discipline.
They will have three minutes to swim in an endless pool, four minutes of pedalling on a cycle ergometer and three minutes to run on a treadmill.
Last year's winning team from Credit Suisse have already signed up as have KPMG and Morgan Stanley.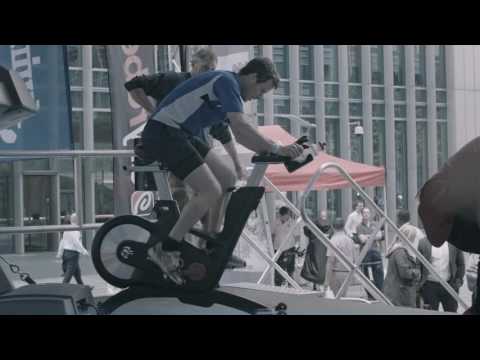 Organisers have partnered up with recently opened Novotel London Canary Wharf , which will host free early morning group training runs and provide a complementary brunch for winners and their families.
Director of sales and marketing for Novotel Louisa Daxer-Robbins said: "We were impressed with the concept when it launched last year and were keen to be involved.
"We hope to add a creative twist including a grand final cocktail evening at Bokan."
Each team will be allocated a 15-minute slot between noon and 2.30pm or 5.30pm to 8.30pm. The top five teams will make the final on Thursday, April 27
Prizes will be awarded to four teams runners-up and the winning team – who will also get £1,000 towards a chosen charity.
Entry is £250 per team which will go directly to Macmillan Cancer Support.
Enter here .
Follow The Wharf on Twitter and Instagram @thewharfnews
Keep up to date with all our articles on Facebook