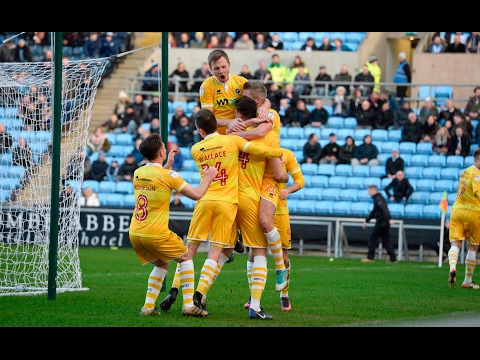 It was great to get back to winning ways on Saturday away to Coventry after previously playing out a goalless draw at home to Walsall on Wednesday, February 1. It's quite sad the state of affairs up at Coventry City.
After their exile at Northampton they are now playing in a barely quarter full ground with one of the worst atmospheres I've ever seen at a football stadium that size.
They seem to have a chairman who doesn't care for their club and who shuts parts of the ground that are sponsored by a local newspaper that he has fallen out with.
They are hurtling towards the bottom tier of league football and you do have to wonder whether there will still be a Coventry City Football Club in league football in five or 10 years time.
At a time when football has never been so rich, it is sad that clubs suffer with no indication how things will get better for the have-nots.
Despite all this we had to take advantage of Coventry's current problems to keep us in touch with the play-offs.
After the comfortable 2-0 win we find ourselves two points off the play-offs and we entertain Southend United this Saturday who currently hold the last place in the play-off positions.
This is a real six-pointer for Millwall against an in-form team.
Hopefully the Shrimpers will bring a decent following with them and our home crowd will back the team in numbers.
That should create a better atmosphere than the midweek match against Walsall.
Our midweek crowds are significantly below the weekend ones for all but the biggest matches or derby games.
Work, school and midweek travel restricts the numbers and that nearly always has a negative affect on the atmosphere.
That must come across to the players. They thrived on the crowd against Watford and if we could have had the next match in front of a similar number of fans you would have to back us to get another important win.
You just know a crowd that is smaller and quieter will seriously hinder the Lions' performance.
With three midweek home matches from next Tuesday night, we really need to overcome the lack of midweek vocal backing as we cannot be throwing points away in the chase for a play-off spot.
With this run of home matches we must be getting maximum points.
Follow The Wharf on Twitter @the_wharf .
Keep up to date with all our articles on Facebook .