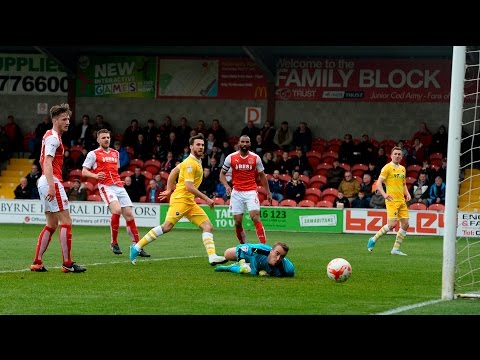 Luckily for us, our 1-0 defeat at Fleetwood has not cost us our play-off position thanks to Southend United's surprise 2-1 defeat at home to MK Dons. We did play well up on the North-west coast though and should have scored a hatful.
We are effectively in the same position as before the weekend but a match further down the line.
We have to win our home match on Saturday, April 22, against Oxford United and then see what is needed in our last match eight days later at Bristol Rovers.
Saturday's 3-0 win over Northampton Town was of secondary importance to the welfare of one of our supporters who received 30 minutes of CPR in the Dockers Stand during the second half of the match.
Watching that unfold produced a muted and strange atmosphere in the second half.
Those medical personnel that administered the emergency care worked miracles in getting Lions season ticket holder, Anthony Murphy to breathe again after having been "dead" for nine minutes.
At the time of writing, Anthony was in critical condition in an induced coma.
The Northampton and Millwall supporters were both very sympathetic to what was going on.
Indeed Northampton supporters chanted, "Millwall, Millwall" to show their support at the end of the match and Millwall supporters in turn stood and applauded the Cobblers fans as they left the ground on their coaches.
When something like this happens at a match it does make you realise no matter how much the game means, at the end of the day, it is just a game.
Looking back to the match we strode to a comfortable 3-0 lead by half time and scored three cracking goals, the opener from Aiden O'Brien was his 15th of the season and was just part of one his best performances in a Lions shirt.
The second goal was a 25 yard screamer from the other winger, Jed Wallace.
Wallace bagged his second as he showed the talents we saw a lot of last season in his previous spell with us. If we are to get promotion these two players need to perform like this for the remainder of the season.
Sadly some Millwall supporters voiced their displeasure at the lack of progress on the contract situation of young Fred Onyedinma by booing him when he touched the ball after coming on as substitute.
No matter what you think I believe you should not boo a Lions player during a game.
We are trying to get promotion and want to do everything we can to improve our team's chances and hinder the opposition.
Booing a player is a rather pathetic way for an adult to show his displeasure if you ask me.
Surely that behaviour belongs to the theatre when you are watching a pantomime.
Follow The Wharf on Twitter and Instagram @thewharfnews
Keep up to date with all our articles on Facebook