There's always a bear-trap waiting around the corner in football but, for the moment, Kevin Nolan can indulge himself with the luxury of satisfaction.
The 2-0 away win by Leyton Orient over Wycombe would have barely caught his attention a year ago when he was one of Sam Allardyce's West Ham regulars, leading the line in the Premier League.
But as new player-manager of the Os – after the 33-year-old was cast out of the Boleyn Ground and into the wilderness – it represents a debut triumph.
"We've worked really hard with the team over the last two days and it's all come to fruition today," said Nolan after the match.
Read more Kevin Nolan out of the cold and into the manager's hot seat
Reflecting on his move to Brisbane Road, Nolan said: "I played here for Newcastle seven years ago in an infamous pre-season friendly where we lost 6-1 and got a real hiding. But I've come back here to create some happier memories.
"We've got to look up, aim high and focus on getting into those play-offs. The boys feel they are in a bad position for a squad of their quality. When I looked at the club and its potential, I didn't feel I could turn away from the challenge.
"Since leaving West Ham I've had a good number of offers, from abroad and higher up the scale, which never really got off the ground. But this one gave me a buzz. I know the area and just thought, 'I fancy a bit of that.'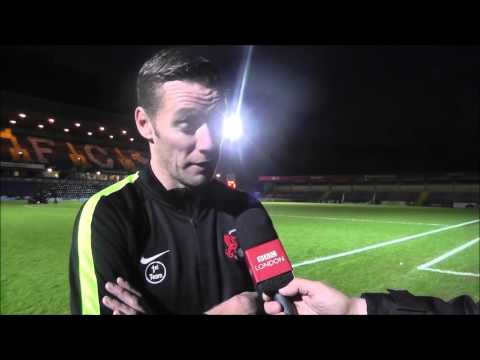 Nolan still pulls on a jersey most games but it was the prospect of becoming a shirt and tie that was the tipping point, keeping him in east London where he had found a berth to train when he was without a club in the summer.
"I've proved myself as a Premier League player and now I want to prove to myself I can do this," he said.
Goalscorer Jay Simpson greeted his new boss with a version of Nolan's famous "chicken dance celebration.
Simpson said: "It was just a bit of fun with the new gaffer. It looked like he enjoyed it, but I guess he is just delighted with the result."
Nolan will be hoping to see wings flapping when the Os, now in 8th, play Cambridge on Saturday (January 30).