James Willstrop, a former world number one and a four-times champion of the Canary Wharf Classic, was a very relieved man after withstanding a ferocious onslaught from New Zealander Paul Coll in the first round.
The 22-year-old Coll, based in Amsterdam, is one of the fittest and fastest players the game has ever seen.
Willstrop, a giant of an athlete at 6ft 4in tall, weathered the storm to win 14-12, 12-10, 11-8 as both players served up spectacular entertainment in front of a sell-out crowd at the East Wintergarden venue.
Willstrop, the number five seed this year, repeatedly found his best shots coming back as Coll raced around the court, with the first game alone lasting 26 minutes.
The New Zealander came desperately close in the first two games but the 33-year-old Englishman used his vast experience to contain his opponent and win the vital points when it mattered.
Willstrop had more of a cushion in the third thanks to tight and disciplined shot selection, and he joined the applause as the audience gave Coll a huge ovation at the end of the match.
He said: "I know it sounds like a tired cliché, but that match clearly illustrated that there are no easy matches in the first round of any tournament. Everyone in the top 50 is capable of producing outstanding squash.
Read more Top seed looks to take coveted Canary Wharf Classic squash title
"When this sport is played at the highest level, and audiences like this are clearly enthralled by what they see on court, then you have to wonder why we are not on prime time TV or in the Olympics. I would really like to know the answers to those two questions.
"Paul is an amazing player and I am delighted to be off the court in three games and into the quarter-finals."
Willstrop now faces another phenomenal athlete in Mathieu Castagnet. The French national champion became an internet sensation after an astonishing dive and retrieval against Willstrop's England doubles partner, Daryl Selby, during last week's Windy City Open in Chicago.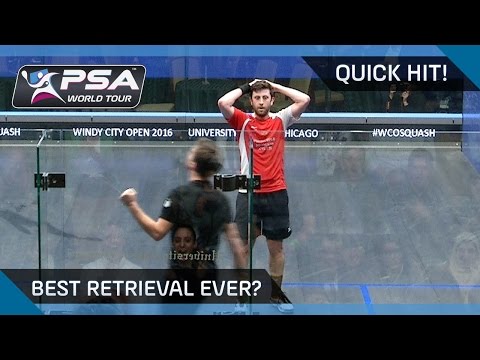 Castagnet overcame talented qualifier Joe Lee, the world No. 62 from Weybridge, and made similarly complimentary remarks to Willstrop's about the depth of the talent pool in squash right now.
Number two seed Simon Rosner, from Germany, meets Australian Cameron Pilley after the two big hitters achieved a clean sweep of straight-games victories over qualifiers Charles Sharpes (England) and Mohamed Reda (Egypt).
Pilley, who is based in The Hague, is a regular training partner of Coll and lost to the Kiwi in the final of last year's Australian Open.
He said: "The way he played against James was no surprise to me at all. He plays just like that in training every time we get on court. It's full on, non-stop aggression at a ridiculous pace."
Results and fixtures
PSA M70 Canary Wharf Squash Classic, East Wintergarden, Canary Wharf, London
First Round
(6) Cameron Pilley (Aus) bt (Q) Mohamed Reda (Egy) 11-8, 11-6, 11-6 (51 mins)
(2) Simon Rosner (Ger) bt (Q) Charles Sharpes (Eng) 11-6, 11-6, 11-6 (32 mins)
(3) Mathieu Castagnet (Fra) bt (Q) Joe Lee (Eng) 11-5, 11-8, 11-5 (48 mins)
(5) James Willstrop (Eng) bt Paul Coll (NZ) 14-12, 12-10, 11-8 (58 mins)
Quarter-Finals
(1) Omar Mosaad (Egy) v (7) Daryl Selby (Eng)
(8) Borja Golan (Spain) v Fares Dessouki (Egy)
(3) Mathieu Castagnet (Fra) v (5) James Willstrop (Eng)
(6) Cameron Pilley (Aus) v (2) Simon Rosner (Ger)