The hammers on the West Ham badge are not inevitably geographical references – although that's turned out rather neatly. Their nickname, the Irons, is not a reference to their strength of spirit – although that's quite handy too.
Instead, as all West Ham fans know, they nod to the early days of the club which grew out of the Thames Ironworks in the Limmo Peninsula near Canary Wharf in the 1890s.
Read more West Ham fans give their verdict on new stadium – gallery
They played their early games at Hermit Road Park, a tad closer to the Boleyn Ground than the London Stadium.
(An early game saw them play Woolwich Arsenal, another team that has shifted around and used its artillery background – Gunners – as a source of symbolic strength.)
The company produced iron work for Isambard Kingdom Brunel's Royal Albert Bridge over the Tamar in the 1850s and the world's first all-iron warship, HMS Warrior, launched in 1860. Thames Ironworks FC was funded by company owner Arnold Hills and Dave Taylor, an employee and referee.
Even though West Ham has moved from the raucous working class hubbub of Green Street to the more global, corporate surroundings of the Olympic Park, the club is still proud of its roots, which forms its core support.
Read more West Ham start their new chapter with impressive win – gallery
Sunday's curtain-raiser (August 7) against Juventus, a game steeped in outward-looking, future-embracing significance, also pays tribute to those early days.
The team, for example, will be wearing the Thames Ironwork Kit, echoing that worn by the very first team, featuring navy blue design with Union Jack detailing.
And the Betway Cup, the prize for the winner of the tie, has more direct references to that heavy metal past.
Sponsor Betway have handed one lifelong Hammer the chance to design and create the Betway Cup.
Russ Williams was raised in claret and blue on Boleyn Road and learned the art of metalwork alongside his dad in Stratford.
The skilled metalworker's final design is inspired by Thames Ironworks founder Arnold Hills, harks from an industrial time where creations were made of plates and rivets with the use of limited materials.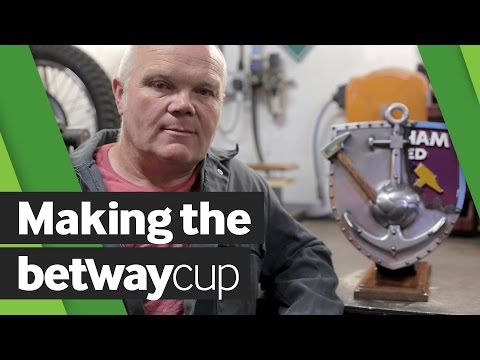 Russ said: "I am a true West Ham boy, so to be approached to design and make the Betway Cup was a great honour.
"I hope this Betway Cup trophy helps to keep the club's history and roots alive. And long may that continue at the new stadium."
Betway's Anthony Werkman said: "Russ has great memories of West Ham legends such as Bobby Moore playing at the Boleyn Ground and it's important to not only remember the club's incredible history, but also celebrate the future."
Follow The Wharf on Twitter @the_wharf .
Keep up to date with all our articles on Facebook .