The new manager of Charlton Athletic Russell Slade gave his first press conference, touching on the key issues he faces in his new job.
On control
"[Full control over transfers] is not in the contract, but it's certainly a verbal agreement that we will discuss everything, in terms of recruitment. Picking the team is certainly in my contract. I will have huge influence over the comings and goings but it will be an open discussion."
On transfers
"We got to work on a few targets. We've got a shortlist and nobody will be leaving on the cheap."
On the Belgian owners
"I believe in my own ability in the first instance. To leave Cardiff and come to Charlton was my decision, I instigated that. I thought it was a good opportunity to come to a club that maybe lost its way last season, but for me to get it back on its feet in the right direction."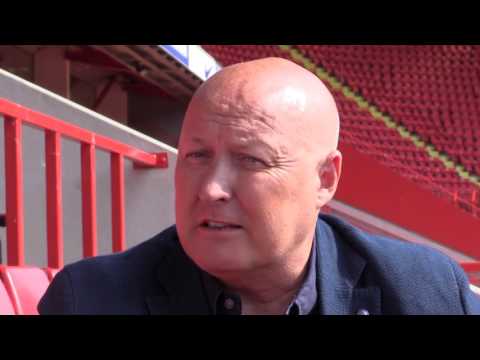 On promotion
"We're looking to achieve promotion. It will be a healthy budget and give us every opportunity. There's an awful lot to be done but we're looking forward to it."
On disgruntled fans
"There's a desire to reconnect with the fans and that's important, because you won't achieve anything unless you're together, and that will take time."
Read more Does Russell Slade really know the scale of the Charlton challenge?
On the challenge
"It's exciting. I feel like I'm coming to a Championship football club. There's a real intent to learn from mistakes and they've made a start by appointing a British manager, which hasn't happened for a number of years."
What she said…
"Since the end of last season we were in discussion with several candidates and it became clear Russell was the best man for the job.
"One of the things we identified was appointing a manager instead of head coach. The appointment is the start of a new era. It's the first time we've signed a manager on a three-year contract."
Katrien Meire, chief executive