Some 10,000 triathletes and 30,000 spectators will take to the streets of Docklands over the weekend (August 6-7) for the 20th anniversary of the London Triathlon , the world's largest.
Spice Girl Mel C, The Gadget Show's Jason Bradbury and a rich array of Olympians will join those who have never dipped into the waters of the Royal Docks before.
Commonwealth champion Jodie Stimpson will take part in the elite race which sees competitors swim the Victoria Dock and run and pedal around the Docklands.
Read more How will the London Triathlon affect my travel plans?
The first wave hits the waters at 10.30am on Saturday and the event goes on all weekend.
Participants can pick one of four flavours of the discipline: super-sprint, sprint, Olympic and Olympic Plus. There are also two team relay options.
TV Jason, who is competing on Saturday, said: "It's great to be returning to the AJ Bell London Triathlon for the second year running. Cycling around London with thousands of people cheering you on is a really special experience and I can't wait until race day."
Jason will be racing among a team of nine MPs, including Baroness Susan Williams who will be handing the baton to Jason after taking to the water to complete the 750m swim.
On Sunday, all eyes will turn to the elite race. In the male elite event, the 2015 runner-up Liam Lloyd will be looking to cement an Australian first place for two years running and his maiden London Triathlon win.
Read more Forget Brexit, the Chinese still have faith in Docklands vision
He will have to fend off strong competition from the likes of Mark Buckingham, a previous event winner, and Olympian Stuart Hayes.
The female elite event sees commonwealth champion Jodie Stimpson return to the triathlon for the third time.
Jodie said: "I love racing in London. The atmosphere is fantastic. The event always has an incredible buzz and it's always great to see so many competitors in and among the iconic London backdrop."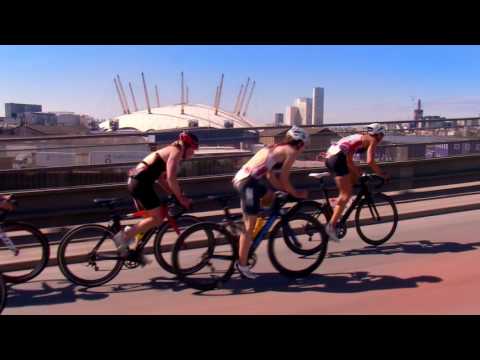 Simon Lessing was the first ever London Triathlon winner back in 1997. He said: "Wow, 20 years has flown by and I am thrilled that the AJ Bell London Triathlon has matured into the mainstay of the British triathlon calendar.
"The triathlon has been a metaphor for the redevelopment of the Docklands.
"Bringing this innovative sport to the area in 1997 and racing in an urban environment has helped tens of thousands of elite and amateur athletes rediscover a part of London that is rich in history."
More than £1million is likely to be raised for charity.