Rockers AC/DC tested the construction of the new-look Olympic Stadium with a gig that included pyrotechics, cannons and, of course, screeching guitar solos.
It was the first gig at the Stadium on Saturday and substitute frontman Axl Rose gave it his blessing. "It's a nice place to be," he told fans packed on the ground where West Ham will play next season.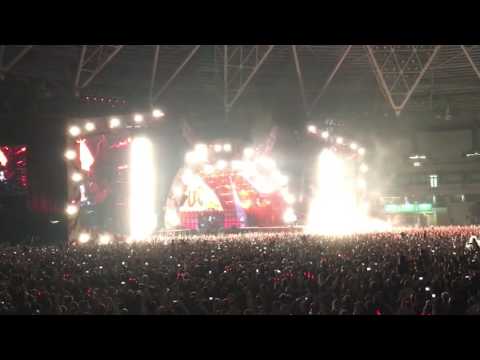 The two-hour 10 minute set saw Rose out of the throne where he had been confined for much of the Rock Or Bust tour because of a foot injury. Instead he wore a medical boot that allowed him to adopt the appropriate power rock stance to belt out hits like Back In Black and Dirty Deeds Done Cheap.
And, on a night of health news, fans heard that Brian Johnson, the original frontman, has received advice that he might well sing live again following a warning of encroaching deafness which saw him withdraw from the tour.
Such a diagnosis was suitable for the entire crowd as AC/DC trawled through their back catalogue to supplement songs from their latest album. Let There Be Rock was followed by a classic Angus Young guitar solo, raised up in the air on a platform and Whole Lotta Rosie saw a giant inflatable doll on stage together with the revelation that it was the first AC/DC track Rose ever heard.
He said: "Guns N' Roses did this song when we first came to London at the Marquee Club. It was always the top song in Rolling Stone so we had to play it."
Fellow Guns N' Roses band members Slash and Duff Rose McKagan were in the crowd, Slash tweeting: "ACDC/Axl gig at Olympic Stadium was nothing short of awesome last night! Memorable evening to say the least."
The show ended with Highway To Hell and For Those About To Rock (We Salute You) accompanied by cannons, flames and a firework display.
Flames shot up from the stage as the band wrapped up the show with 'Highway To Hell' before cannons appeared onstage for the finale on 'For Those About To Rock (We Salute You). The track ended with a short firework display.