Starbucks has taken on two deaf partners at its Jubilee Place Mall branch and its manager Toro Manca encouraged his staff to learn a sign language welcoming song to break the ice.
Toro said: "Around five years ago I was working at Starbucks in Westfield in Shepherds Bush and we had a lot of deaf customers coming in.

"It was then I thought it would be good to be able to interact more easily with them and I was inspired to learn sign language."
Toro is now a level three sign language student – which was no easy feat because he was one of the only people on the course who wasn't working in an environment where there were deaf people around on a regular basis.
Toro hired two new deaf partners earlier this year – Manu Sulaiman and Christopher Foster.
Just before Manu started, Toro got the rest of the staff to learn the song Joining Hands Today (video below) in sign language alongside deaf charity SignHealth's Sign2Sing initiative, which they filmed at the Jubilee Place Mall store and put online.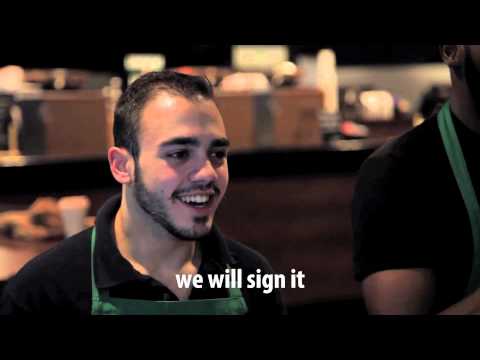 Toro said: "Having Chris on the team we wanted to do something more related to sign language and something different for the community. He was thrilled when he found out and said it made him feel really welcome."
He said: "I've found many deaf people say 'we were completely ignored' when they've been into stores, because I think people don't know how to interact.
"It's just about making eye contact and acknowledging each other."