Thousands of spectators are expected to line the River Thames and pack St Katharine Docks as the Clipper Round The World Race returns to Tower Bridge.
A multinational fleet of 12 identical yachts will sail up London's waterway on Saturday, July 30 to mark the end of the 11-month circumnavigation of the globe consisting of 14 races over 40,000 miles between six continents.
The fleet has been manned by 690 people of 44 nationalities including 170 Brits, 54 of whom are Londoners.
It will be an emotional moment for the crew members and their families, following the deaths of two Londoners Andrew Ashman and Sarah Young, both members of the crew aboard the IchorCoal.
Upon their return, the bridge will lift in salute twice as the fleet parades past the Tower of London before going back through and entering St Katharine Docks.
There will be a minute's applause before the prize giving ceremony to pay tribute to Andrew and Sarah.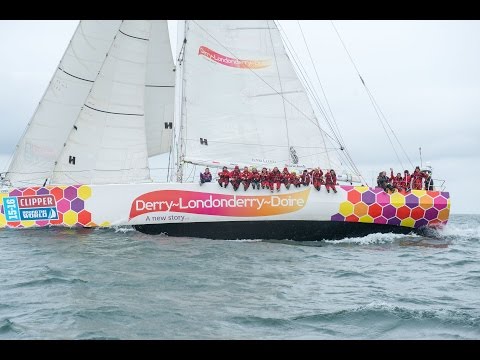 Andrew's brother Keith Ashman will come aboard the IchorCoal for the final parade up The Thames to complete his brother's journey.
The tenth edition of the famous biennial race for novice sailors led by professional captains is regarded as the most challenging on record.
The event endured the most extreme conditions it has ever faced in its 20-year history.
Where to watch the yachts on Saturday, July 30
7.19am – Fleet arrives at the QE2 Bridge at Dartford
8.48am - Thames Barrier
9.01am – Fleet passes The O2
9.12am - Fleet passes Greenwich Observatory
9.30am – Fleet passes Canary Wharf Pier
9.45am – Fleet Arrives at Tower Bridge
10am – Tower Bridge lifts for fleet to pass in Parade of Sail
10.30am – Tower Bridge lifts again as fleet enters St Katharine Docks 10.45-12.45
1pm – Prize giving begins on stage in St Katharine Docks Marina
Follow The Wharf on Twitter @the_wharf
Keep up to date with all our articles on Facebook