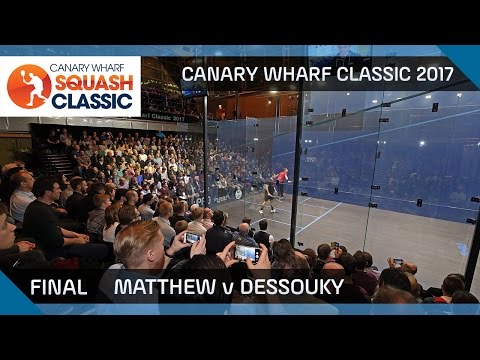 Squash world champion Nick Matthew has donated his prize money from winning the Canary Wharf Classic to an 11-year-old boy with a brain tumour.
Matthew, 36, beat 22-year-old Fares Dessouky of Egypt 3-1 to claim his 35th PSA World Tour title – and claim his record sixth title at the East Wintergarden.
Matthew knows the family of Sumner Malik, a keen squash player who has been diagnosed with DIPG ( diffuse intrinsic pontine glioma ), which has no cure.
There's no treatment available on the NHS for Sumner, so his family have to pay for private care. He underwent treatment last week.
Matthew said: "I know the Malik family and they live and breathe squash. I'm a parent myself and hopefully he can have a great life ahead of him and I'm glad that I've been able to give them a good fund.
"I don't want any thanks or personal gain for doing it - it's about raising awareness for him and it's the least that I can do."
Sumner's tumour affects a part of the brain stem which controls heartbeat, breathing, swallowing, eye movement, eyesight and balance.
£6,000 a month
His dad Camron Malik said: "We have just paid £60,500 and we are still trying to raise £6,000 per month for the monthly infusion costs.
"This could go up to £11,000 per month depending on which drug Sumner is more responsive to."
He then might have to undergo further immunotherapy in Germany, costing an additional £35,000 every six weeks.
He said he was overwhelmed by Matthew's generosity.
"We're fortunate to do what we do for a living and we take it for granted at times," Matthew said.
He was full of praise for the week-long Canary Wharf Classic, which was sold out for every session
"For me it's also just such a pleasure to play here – I truly missed this tournament last year. The Friday night crowd at Canary Wharf is the best on Tour," he said.
Find out more about Sumner here .
How the match played out
Matthew completed his 70 minute victory with 11-9, 11-7, 10-12, 11-8 scoreline that sees him collect the 35th title of his PSA World Tour career. It was a triumphant week for the Englishman with – with Dessouky, the only man this week to take a game from the World No.4.
The Egyptian had come through a 124 minute semi-final with Spaniard Borja Golan to reach the title-decider and Matthew took advantage of weary legs to open up an early first game lead.
The Sheffield man continued to dominate and double his advantage but Dessouky rose to the challenge and took the third game against the run of play.
Matthew told PSAWorldTour.com : "He had a long, hard match and it's so hard mentally to recover from a match like that, but he showed just how tough is his the way he came back in that third game.
"I know what it's like to back up a tough semi-final, it's so hard, so it's credit to him for the way he pushed me. I never really felt settled on there, I was never that far in front of him so it was a bit of a concentration battle – but I'm happy to come through and get the win and I'm very proud of the achievement."
Dessouky said: "I had a great week and played my best ever squash here. The crowd were supporting me from first the first day and getting to the final was very pleasing. Maybe next time I can win the title – I feel like I am pretty close."
Follow The Wharf on Twitter and Instagram @thewharfnews
Keep up to date with all our articles on Facebook