TfL thinks Silvertown Tunnel is a crucial link to ease congestion, increase reliabilty and reduce pollution overall. On the day that the final major consultation opens, a slew of opponents have expressed their opinion.
The scheme envisages a four-lane motorway beneath the Thames to complement the Blackwall Tunnel, with toll charging aimed at "managing demand".
Addressing the main concern for many opponents TfL's head of planning Richard de Cani said : "We believe air quality will be better than today. Traffic will be moving. It will be introducing additional traffic but there'll be a better distribution overall."
Janette Withey, chairman of East London Chamber Of Commerce, added: "Creating better transport links across the river will enable businesses to reach a wider customer base and allow employees to commute to work more easily and speedily."
Others disagree:
Pollution
London Assembly member Darren Johnson of the Green Party said: "There can be no doubt that there will be a massive influx of extra traffic on the roads in east London if the mayor gets his way and the Silvertown Tunnel goes ahead. It will be Londoners who will suffer the extremely serious health consequences if this hugely polluting crossing is ever built."
"Instead of building new roads which will generate more traffic, the mayor should be thinking about extra public transport links.
"London has been growing at the rate of a 100,000 extra people a year for over a decade now, but car traffic has declined by 1% a year during that time. We have kept London moving by increasing capacity on public transport and encouraging people to walk, or cycle more. We need to build on that record of success."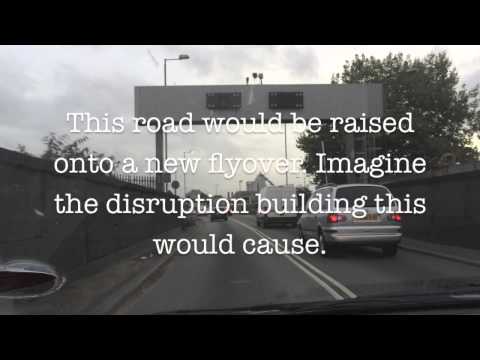 Green Party mayoral candidate Sian Berry said: "Building new roads to create more traffic is the last thing London needs.
"We have seen all too clearly the failure of manufacturers to clean up vehicles and cut the pollution we are forced to breathe every day."
Congestion
Jenny Bates, Friends of the Earth's London Campaigner said: "The tunnel wouldn't even work – extra traffic it generated, whether overall or at certain times of day, would make congestion worse in the area, not better. Even if it reduced queuing at Blackwall tunnel, travellers would just hit worse congestion at either end caused by the extra traffic – and all this would just make pollution worse."
And here is what campaign group No to Silvertown Tunnel say on their website:
"TfL claims tolling both Blackwall and Silvertown Tunnels will result in no overall extra traffic – yet its modelling has shown increased traffic levels on the A102 Blackwall Tunnel approach and on other roads in east and south-east London.
"Moreover, tolling has not stopped the Dartford Crossing from being a magnet for congestion. Time and again evidence has shown that when a new road is built, new journeys are generated and the result is higher levels of traffic overall.
"The Silvertown Tunnel is also designed to provide a new route for HGVs, bringing more polluting lorries onto the streets of inner London. Full environmental assessments have not been carried out, despite widespread worries that the tunnel will increase pollution."
Have your say as part of the official consultation here.