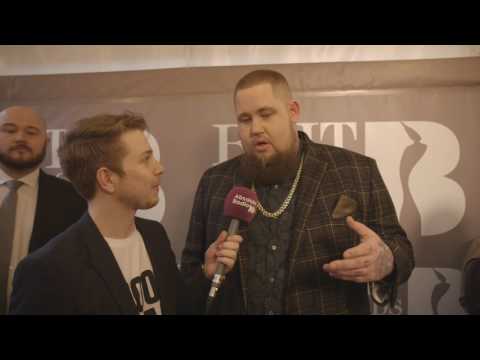 The stars were out in North Greenwich for The Brit Awards.
Celebrities walked the red carpet on Wednesday, February 22 at The O2 for a night of music, backslapping and Champagne swilling.
But whose glad rags brought us joy and whose should go back in the wardrobe for good?
Win: Tallia Storm
Scottish singer Tallia took a risk and it payed off in this Swinging Sixties inspired dress. The playful sleeves hit two of spring's biggest trends, pink and frills and she has stuck to the old adage of only flashing legs or cleavage.
Win: Rory Graham
Lead singer of British band Rag'n'Bone Rory was one of the best dressed men there. We love the subtle mix of prints, combined with glints of gold and the way his pocket square picks out the colour of his wonderfully well groomed beard. #BritBling
Win: Lianne La Havas
From the stunning embroidery, to the delicate balloon sleeves, there isn't much not to love about singer Lianne's dress. Her soft hair and make-up complement it perfectly and let those red flowers bloom soak up the spotlight.
Win: Clara Amfo
We normally only get to hear BBC Radio 1 presenter Clara but she injects some much needed fun into the red carpet with her lilac mini dress. We love how her hair echoes the bow neckline and how she has forgone fussy jewellery in favour of killer heels. #Winning
Win: Simon Neil (our fave)
Best dressed of the night has to go to this fabulous red cape and trouser combo from Biffy Clyro's Simon, flanked by two almost equally dapper, if slightly more subdued, outfits. And, in true Scotsman fashion, he has got us wondering....what the heck has he got on underneath it? #hoots
Fail: Rita Ora
Sorry Rita but the sludgy colour and slick hair make it look like you have just been dragged through a garden pond. Your make-up and highlighting is on-point though.
Fail: Brooklyn Beckham
Mum Victoria has a penchant for oversized garments of late but Brooklyn should be past the age where he's wearing clothes that he'll grow into. Either that or he grabbed it from David's closet without checking he had manned up enough to fill it out. #swamped
Fail: Heloise Letissier
French singer Heloise usually wears a white shirt with style. But on this occasion she tries to pull off an outfit that only Adam Ant could master. Sub Prince Charming.
Fail: Charli XCX
We're not sure what the thinking behind this look from Charli was, but it reminds us of the dust ruffle on our great aunt's curtains. And that is never a good thing to be seen wearing.
Fail: Natalia Vodianova
Just no, Natalia.
Follow The Wharf on Twitter and Instagram @thewharfnews
Keep up to date with all our articles on Facebook