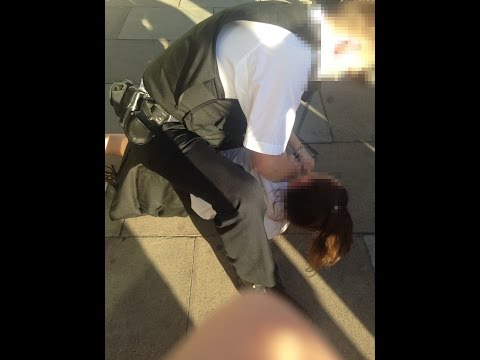 The family of a 13-year-old Bethnal Green Academy pupil who was handcuffed outside of Wapping High School has accused police of brutality.
The Metropolitan Police have been accused of using unnecessary force after Bethnal Green Academy pupil Katlynn Murphy King was arrested outside the school on Commercial Road.
Katelynn and her sister were visiting the school to meet a friend before a row broke out between Katelynn and a 16-year-old, who allegedly called her "a slag" before trying to kick her.
The police were then called and restrained the 13-year-old for affray and breach of the peace.
A video shot on Katelynn's sister's phone and published on YouTube showed the teen on the floor in handcuffs before she was dragged to her feet by the officer.
Joan King, Katelynn's grandmother, told ITV London: "I was absolutely disgusted when I saw this grown man throwing my granddaughter about the floor.
"I was shocked, I was disgusted, I was angry and I just went to get Katelynn to see if she was OK and then of course I saw all the injuries on her body."
A complaint was made to the IPCC, who later decided it should be investigated internally by Scotland Yard.
According to a statement from the Met , Katelynn was later de-arrested at the scene for affray before she was taken home and then de-arrested for breach of the peace.
The statement said: "On Wednesday, October 5, police were called at 4.15pm to Commercial Road, Wapping, to reports of disturbance.
"Officers attended and arrested a 13-year-old girl on suspicion of affray and for a breach of the peace.
"She was de-arrested at the scene for the affray and taken home to prevent a further breach of the peace. Once there she was subsequently de-arrested for the breach of the peace.
"The girl sustained minor injuries but did not require hospital treatment.
"On Friday, October 7, a complaint was received from a member of the public in relation to the arrest of the 13-year-old girl.
"This complaint was referred to the Directorate Of Professional Standards who in turn referred it to the Independent Police Complaints Commission. Inquiries continue."
Follow The Wharf on Twitter @the_wharf
Keep up to date with all our articles on Facebook