A square-masted navy training vessel gave a Mexican wave goodbye on Monday (June 13) in the same colourful way that it had arrived.
The 90m long Cuauhtemoc , built in 1982, was bedecked with signal flags and blasted out Mexican music as it left London on a drab day on its way to Hamburg.
Like her sister ships, Colombia's Gloria, Ecuador's Guayas and Venezuela's Simón Bolívar, the ship is a sailing ambassador for her home country and a frequent visitor to world ports, having sailed over 400,000 nautical miles (700,000 km) in her 23 years of service.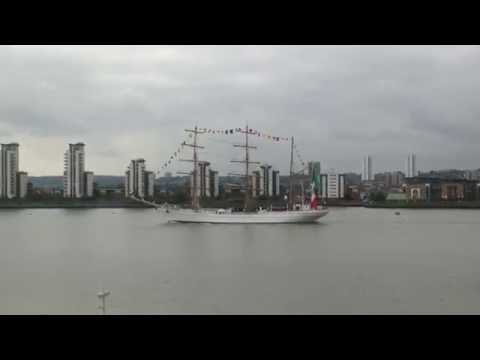 She had been on a goodwill visit to London, stopping at the Millwall Docks, Canary Wharf, and arrived in similar splendour with her crew, arms outstretched, on the masts on Tuesday, June 7.
She was named after Cuauhtémoc, the ruler (tlatoani) of Tenochtitlan from 1520 to 1521, making him the last Aztec Emperor.
Read more Coast Guard Cutter Eagle arrives at Canary Wharf – gallery
The name means "one who has descended like an eagle", and is commonly translated as "Descending Eagle," – capturing the moment when an eagle folds its wings and plummets down to strike its prey.