The Mayor of London has become the first passenger to ride Crossrail to Canary Wharf, two years before it opens to the public.
Sadiq Khan travelled on the Elizabeth line to the Docklands financial estate from Custom House on a construction train.
During the trip he met a number of engineers and apprentices working on the rail, known as Europe's larget infrastructure project .
Mr Khan said: "The opening of The Elizabeth line will be a landmark moment for London. It will help us deliver a modern, truly world-class transport system that allows us to deal with the growth in London's population over the coming decades.
"Half the permanent track has now been completed, and being able to travel the Elizabeth line route from Custom House to Canary Wharf shows the huge progress that has been made.
"I visited the Canary Wharf station site as Transport Minister in 2010 when construction had just got underway. The fact that the project is now 75% complete, and being delivered on time and within budget is testament to the hard work of the thousands of men and women who have worked on the project.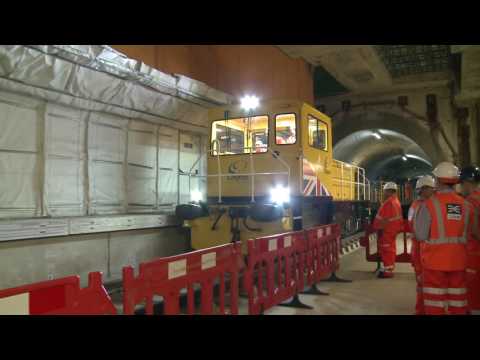 "It is vital for the future prosperity of our city that progress continues apace and we deliver this wonderful project on time. With brand new trains and all the stations being step-free, the opening of the Elizabeth line will improve the quality of life for millions of people across London and the south east, and provide a huge boost to our economy."
Half of the track on the line has been laid and nearly all of the platform structures at the 10 new stations have also been built.
Crossrail chief executive Andrew Wolstenholme said: "The Crossrail programme has now reached 75% complete.
"The remaining 25% of the programme will present a new set of challenges as we finish installing the critical components that will transform this major infrastructure project into an operating railway.
"The Elizabeth line will be vital to the future success of the capital and we're fully focused on completing the delivery safely, on time and on budget for our handover to TfL in 2018."
Follow The Wharf on Twitter @the_wharf
Keep up to date with all our articles on Facebook