Fleet Amphibious Flagship HMS Bulwark left London today (June 9) after a four-day visit to the capital.
The ship arrived at night but left in blazing sunshine after she had spent time moored off Greenwich.
She came to the capital after arriving from the Orkney Islands where she played a key role in the poignant and moving commemoration of the 100th anniversary of the Battle of Jutland.
The 400 sailors and marines – some who had never visited London before – explore the city and surrounding boroughs.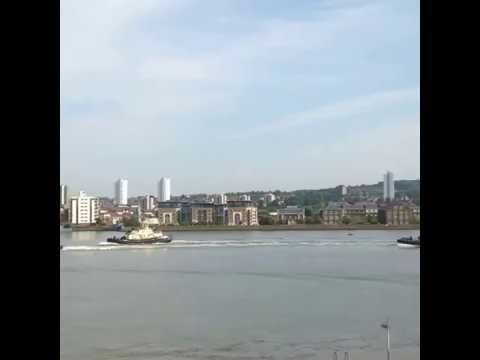 Captain James Parkin said: "It's always a delight for any Captain to bring his ship to the nation's capital, and particularly for me with so much of my family hailing from the city."
"Bulwark has a busy programme of events and engagements over the next four days.
"It's particularly pleasing to host the Peregrine Trophy awards this year, in such a prestigious location next to the Cutty Sark and the Old Royal Naval College"
Speaking at the beginning of the stay, Engineering Technician Daniel Brown, 20, said: "We have had a busy month of exercises and memorial services, and this will be a chance to see the sights I've only ever seen photos of."
Following the visit to London, HMS Bulwark will return to Plymouth for a short period of maintenance.
The ship will then visit Sunderland and take the opportunity to exercise the Freedom of the City of Durham and act as a maritime backdrop for the Sunderland International Air Show.
HMS Bulwark will then lead the Royal Navy's Joint Expeditionary Force (Maritime) deployment to the Mediterranean and beyond later in the year.