Canary Wharf Group says it is investigating how a pair of thrill-seekers evaded security and made their way to the top of the 235m One Canada Square.
Risking their lives, he pair made their way out on to the exterior of the pyramid topping the tower, even climbing up the metal clad exterior to touch the very apex.
A Canary Wharf Group spokesperson said: "We are actively investigating unauthorised entry into One Canada Square, on the Canary Wharf estate.
"Security is taken extremely seriously at Canary Wharf. We invest heavily in our security and review the processes on a regular basis.
"Current arrangements have been tightened, while our security procedures are being reviewed and an internal investigation conducted.
"We are working closely with the Metropolitan Police. Our priority is to ensure the safety of our tenants, employees and those visiting the Estate."
The pair had accessed the stairwells of the tower by leaping over the barriers that surround the tower shafts. They climb to level 50 and the 10 minute YouTube video appears to show them getting easy access to the plant room which tops the building.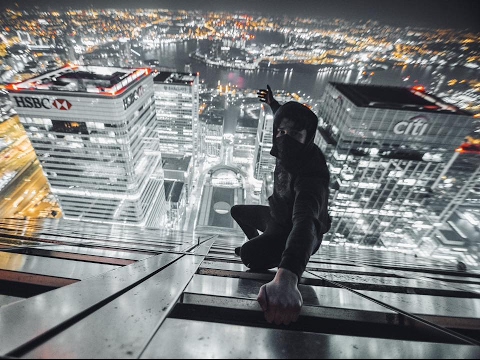 They film themselves dangling 230m above the ground and shooting panorama shots across the capital, risking their lives in strong winds.
The 10-and-a-half minute clip was posted to YouTube channel Night Scape, where they described the challenge as "almost impossible".
One of the climbers said: "My heart is pounding. We can literally see the whole of London, just everything."
In a comment under the YouTube clip Night Scape wrote: "This building is completely locked off now, Please do not try to attempt this.
A Met Police spokesman said: "The Metropolitan Police Service is aware of footage online depicting people gaining unauthorised access One Canada Square.
"We will liaise with the building operators to assess whether any offences have been committed.
"It is unknown when the footage was taken. Inquiries continue and no arrests."