Base jumper Dan Witchalls - who became famous for leaping off The Shard four times - parachuted from three towers in east London in just one night.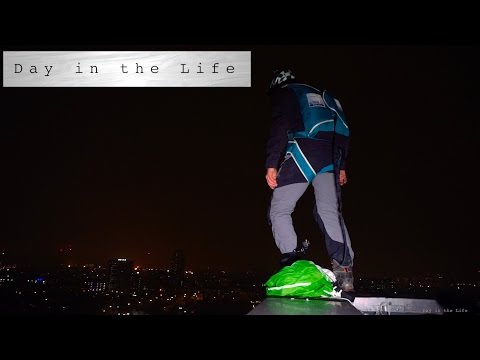 In YouTube clip - London's illegal Base Jumper: A Day in the Life - he is seen jumping from the nearly complete Novotel building, residential block Lincoln Plaza in South Quay (which is under construction) and a council block in Bow.
Read more: Video: Preview of motocross stunt show Night of the Jumps coming to The O2 in September
Each tower had security guards, but he managed to get past them while wearing a high-vis jacket and yellow hard hat, which many construction workers in the area wear.
The father-of-two, who has done 1,500 jumps in the 15 years since he started base jumping, told The Wharf: "No building is ever the same. The landing area, the height - there are so many factors.
"I can't really explain why I do it. I like the excitement of it. I hate the term adrenaline junkie, but it's not too far from the truth.
"Every time I do it I'm scared. Sometimes more than others, but if I didn't get scared it wouldn't be worth it - it's the risk that's exciting."
Dan carried out the challenge around three weeks ago after he was contacted by friend Alan Quinn who wanted to film him during one of his jumps.
Read more: Life Residential opens Canary Wharf office this month
Dan said: "I suggested we do three in one go to make it a bit more interesting, and so we needed somewhere with a lot of tall buildings near by.
"There are so many buildings in London, but in Canary Wharf there are lots in close proximity, so it wasn't so much of a problem to do them in one go.
"There are so many more I'd love to do in Canary Wharf - Citibank, Pan Peninsula - HSBC would be great or maybe one of the residential towers under construction - it could be great publicity for them."
Although the roofer says his family are keen for him to give up the dangerous sport, he can't confirm when he will.
He added: "I'm hoping I will soon, but it has to be when it feels like the right time. It could be today, tomorrow, or in five years time.
"Hopefully it will be when I decide and not when it's forced on me."
Sales director David Galman, from Galliard Homes - which owns Lincoln Plaza - said: "Base jumping, though a spectacle, is an incredibly dangerous sport. That the man in question chose to jump from a Galliard Homes tower is regrettable, and Galliard Homes does not condone any participation in the feat.
"Though the man is a 'professional' and had previously jumped off the Shard, in the strongest terms we do not support the act- that he jumped off three separate buildings in Canary Wharf in one night shows his dedication to the extreme sport, but we would not recommend anyone else try it."
HSBC has been contacted for a comment.
Follow The Wharf on Twitter @the_wharf.
Keep up to date with all our articles on Facebook.