Actor Will Mellor recently took part in an inclusive sports day in Tower Hamlets in support of the Together We Will campaign.
The Hollyoaks and Two Pints star was at the Attlee Youth And Community Centre as part of the initiative to encourage and support those with physical and mental impairments to become more active.
Will, in his role as ambassador, was hosting the sports day with charity Motivate East and spoke of his involvement in the campaign and the sudden death of his sister Joanne in 2013, who suffered from Marfan syndrome.
He said: "Being active was a massive part of Joanne's life. She learnt to ride a bike, which she was very nervous about but it gave her confidence to go out and meet people.
"She ended up getting the confidence to get on buses and go to college. So when they asked me to get involved with Together We Will, it reminded me of her."
Together We Will, run by eight National Disability Sports Organisations in partnership with English Federation Of Disability Sport , has been created partly to raise awareness of what's available in the local area of those who have physical or mental impairments.
On the website people can type in their address and it will show what schemes and places there are nearby.
"It's created awareness of what's in the area that lets them get out and be a part of the community by getting active," Will said.
"It can change your life. It's vital to see people who are physically impaired in amongst the community because we're all human, they're one of us and we need to get along and be part of it.
"I smile every day at these events because they are the nicest people in the world, they just want to have fun and they want to get to know you.
"I've done so many things, I've learnt so many things and I've met some great people. This is what it's all about."
Ambassador Amanda Worne told her story of how she broke her back and became paralysed from the waist down in a cycling accident in August 2015 when her brakes failed going downhill.
But despite her injury she recently completed a sky dive for charity and is now learning to scuba dive.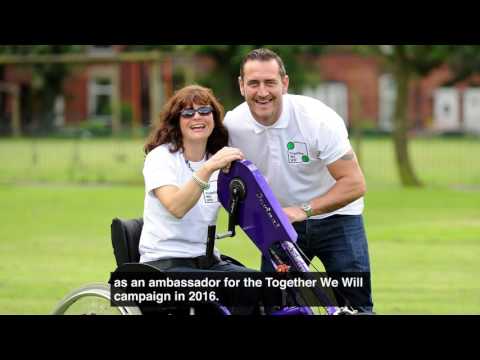 Amanda said: "These events are important because everyone gets really involved, they are quite competitive and I think it's not only the physical but it's the mental positivity that sport creates.
"Sometimes you lack confidence but when you're working as a team it helps you come out of yourself because you're working with other people.
"It's a form of escapism, it means you can get away from reality, get away from your pain, get away from your disability and just be you.
"You can show you can function, you can show that you can do things, you win things and it's a real feeling of empowerment and strength."
Follow The Wharf on Twitter @the_wharf
Keep up to date with all our articles on Facebook