It is one of London's most famous landmarks but also a busy thoroughfare used by 40,000 a day .
Tower Bridge took 432 construction workers, eight years to build and when it was opened in 1894 was the largest and most sophisticated bascule bridge ever completed.
Originally dark brown, it was repainted red, white and blue in 1977 for the Queen's Silver Jubilee and most recently has been updated with a glass walkway.
Here are some amazing facts about the River Thames crossing.
1) It could have looked very different
A contest was launched in 1876 to find the best design for the bridge. More than 50 ideas were submitted and it took eight years for the committee to choose one. They finally settled on the submission by Sir Horace Jones. The fact he was the City Architect and also one of the judges may have helped grease the wheels.
2) Watch from your sofa
There is a live HD webcam constantly trained on Tower Bridge. It is pretty far away but you can just about see people making their way across the bridge. If you're lucky you might even see one of more than 1,000 openings that happen a year. The 1,000 ton bascules were originally driven by pressurised river water but today can be opened in just five minutes by the oil and electricity-driven hydraulics.
3) Daring escapes
Just like in the movies there have been a number of hair-raising near-misses involved with the raising of the bridge. In 1912 pilot Frank McClean was forced to fly his biplane between the bascules and the high-level walkways to avoid an accident. In 1952 double decker bus driver Albert Gunter had to accelerate across from one bascule to the other when the bridge began to rise without warning. And in 1997, an 'unexpected' opening of Tower Bridge divided the motorcade of US President Bill Clinton.
4) Bizarre and famous visitors
Over the years some unusual items have sailed under the bridge. In 2012 it opened to let a 15-metre tall rubber duck pass through. And in 2014 a wooden hippo measuring 21 metres long floated under the bridge. It has also been a backdrop for many films and photographs and in 2012 David Beckham drove a speedboat carrying the Olympic flame under it during the opening ceremony of the London 2012 games.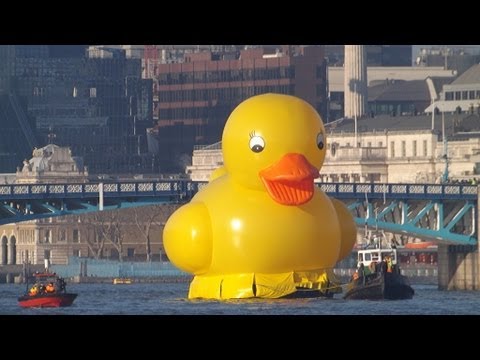 5) Not for the faint -hearted
The glass walkways offers visitors a never-seen-before view of London life, from 42 metres above the River Thames. If you're brave enough to look down you will see people passing underneath. But don't worry it is constructed of 530kg panels which can hold the weight of two black cabs and an elephant.
Follow The Wharf on Twitter @the_wharf .
Keep up to date with all our articles on Facebook .