Sony has taken technology common in very high end large-screen TVs and put it in a 5.5in smartphone.
The new Xperia XZ Premium will be the world's first smartphone to have a 4K definition high-dynamic range (HDR) screen, giving users ultra high definition and colour contrast movies and TV in their hands.
The camera is also improved and is capable of shooting super slo-mo four times slower than its rivals. There's also predictive capture will offer four image options a second before you click the shutter on a still.
The XZ Premium and its smaller sister product the XZs are both water resistant.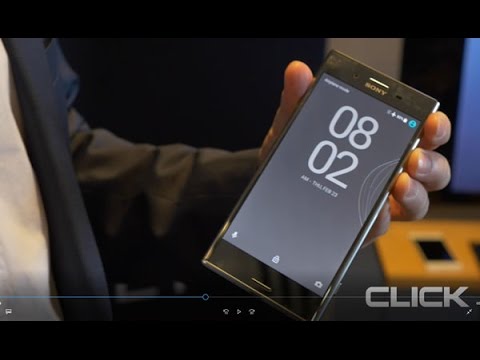 Sony's Hideyuki Furumi: "We've continued to evolve and transform our smartphone portfolio, with an unwavering focus on delivering the most advanced technology in elegantly designed products.
"Whether it's a memory-stacked camera system capable of super slow motion capture or the world's first 4K HDR smartphone display, we're delivering experiences that connect with users in emotional and meaningful ways like never before."
Sony was speaking ahead at Monday's Mobile World Congress in Barcelona where a slew of phone makers were preparing to unveil their latest models and technology.
The XZ Premium was the lead among a flurry of new devices announced by the Japanese technology giant during their press conference ahead of the opening of Mobile World Congress (MWC) on Monday.
New midrange Xperias
Meanwhile, in the mid-range the Xperia XA1 and larger screen XA1 Ultra were unveiled with 23 megapixel rear cameras and high-end 16 megapixel selfie cameras.
And to make its phones a more useful device, Sony have unveiled a projector that can turn any flat surface into a touch screen, allowing Android phones and tablets to project games and watch streamed movies.