In the growing cluster of incubator spaces, another sizeable dot has been added to the map in east London.
At the start of London Technology Week, the £15million Plexal is now fully opened at Here East , on the Olympic Park promising to support 800 startups and other businesses.
Plexal has been developed by technology consultancy firm Entiq and British property developer Delancey, which bought the Olympic Village with the Qatari ruling family in 2011.
The 68,000 sq ft startup hub has been designed to resemble a "mini city" and comes with a "high street," as well as "civic spaces" and "private spaces."
Entiq states: "Plexal will help preserve and enrich local assets and strengths, including the Queen Elizabeth Olympic Park sporting facilities, the manufacturing and creative heritage of Hackney Wick, East London's entrepreneurs, and internationally connected corporates."
Entiq CEO Claire Cockerton said: "Plexal is a neural network. It's a word for a collection of nodes and synapses and collections of networks. So it's very much trying to embody the concept of connectivity and also humanity.
"The whole focus of our space is on connected devices and we're focusing on sport, health, fashion and 'Internet of Things' technologies."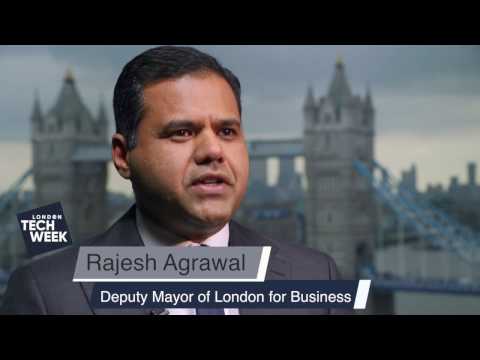 Mayor of London Sadiq Khan spent the start of London Tech Week – Europe's largest tech festival – unveiling a £1.6million clean technology incubator called Better Futures which will help London business combat climate change.
He also outlined his vision for the capital. He said: "My ambition now is to harness the new technologies that are being pioneered right here to transform London into the world's leading smart city.
"The potential for cutting-edge technology to tackle a host of social, economic and environmental challenges is immeasurable."
"From air pollution and climate change to housing and transport, new technologies and data science will be at the heart of the long-term solutions to urban challenges."
The mayor also confirmed plans to appoint a chief digital officer, who will work with local authorities and technology businesses on policy for the industry.
The week of events includes coding workshops and drone racing from the professional Drone Racing League (DRL) at Alexandra Palace. There's a festival concert with film score supremo Hans Zimmer at the SSE Arena, Wembley and a gala dinner which includes among its speakers Rajesh Agrawal, the Canary Wharf foreign exchange millionaire turned deputy mayor.
Canary Wharf itself hosts clinics on hiring talent from overseas while East Wintergarden will put venture capitalists and entrepreneurs in the same room on Thursday.
The anchor event of the week is TechXLR8 , a festival of connected innovation at the Excel Centre, Docklands, showcasing 5G, innovations in cloud technology, autonomous cars, VR and AR, AI and machine learning.