As a rule, I don't talk about Master A in the office. If someone asks me how he's getting on, I keep the answer brief. I find it dull if someone chatters about their children so why shouldn't they feel the same.
This rule applies to pets, too. Who really wants to hear about the weekend exploits of Freddie the cockapoo or what Trixie the Siamese did next? As with parents, it is only the pet owner who finds everything their little one does cute, amusing and charming. The rest of the world is not interested – unless, of course, you have a pet seal cub. Who would be heartless enough not to coo?
Somehow the brief has bypassed Irritating Colleague.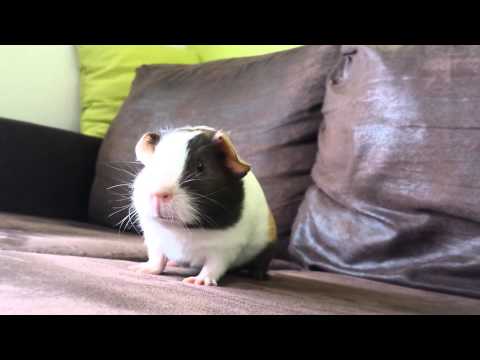 A couple of weeks ago my office nemesis become a "mommy" – her words, not mine – to little Geoffrey and George, a pair of Abyssinian guinea pigs.
Since then the office has been treated to daily updates of the dynamic duo. We've heard about their developing personalities.
"Geoffrey is the shy one but once he gets to know you, he'll let you tickle his lickle-ickle toes. George! What can I say? He's a real charmer, a regular Clooney. I don't know who he takes after."
What's wrong with a bit of 'embarrassing mum' love?
We're told how super bright they are.
"Geoffrey can actually turn in a circle and George can jump through a hoop. They're not even one yet!"
We are treated to regular slideshows of the long-haired pair, featuring artfully posed shots, and videos of them at play or while they are sleeping.
"Look how cute they are. Watch this bit. Look! George is snuggling up to Geoffrey. Aww. And they're both snoring. How cute is that?"
And in the fashion of a true Boden-clad mummy Irritating Colleague goes to great lengths to tell anyone who will listen about the sophisticated palate that both her baby boys share.
"I've tried to get them to eat broccoli leaves but they'll only eat cavolo nero!"
The life expectancy of a guinea pig is four to eight years.
I'm really not sure I can last that long.
Follow The Wharf on Twitter and Instagram @thewharfnews
Keep up to date with all our articles on Facebook